Port Statistics Window¶
The most important thing about using this window is that ALL the toolbar buttons (except Clear All Stats) operate on the port(s) selected in the statistics window itself (not the port selected in the ports list). If no ports are selected, no operation will be performed.
Release 0.9 onwards: To select a port, click anywhere in the port column.
Release 0.8 and older: A port is deemed to be "selected" only when the full column is selected - you can do that by clicking on the "heading row" of the port. See the image below for the right way to select a port -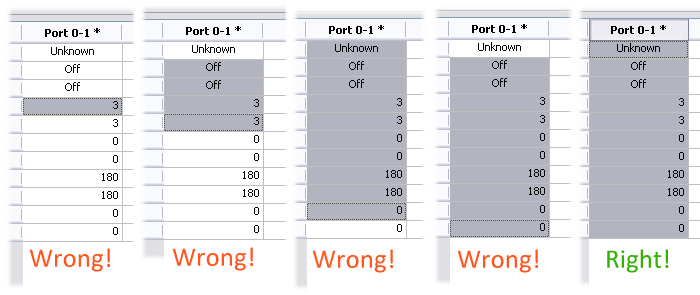 Actions¶
| Icon | Action | Description |
| --- | --- | --- |
| | Start Transmit | Starts packet transmit on selected port(s) |
| | Stop Transmit | Stops packet transmit on selected port(s) |
| | Clear Stats | Clears statistics on selected port(s) |
| | Clear All Stats | Clears statistics on all displayed ports (ver 0.6 and earlier: all ports - displayed and hidden) |
| | Start Capture | Starts packet capture on selected port(s) |
| | Stop Capture | Stops packet capture on selected port(s) |
| | View Capture | View captured packets on selected port(s) |
| | Resolve Neighbors | Resolve Device Neighbors on selected port(s) |
| | Clear Neighbors | Clear Device Neighbors on selected port(s) |
| | Configure View | Select which port(s) to display in which order in the Statistics Window |